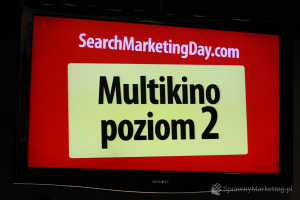 On Thursday June 16 the international SEO conference Search Marketing Day 2011 came to an end. For two days Poznań was taken over by ten world renowned SEO experts, over 220 participants, and terabytes of knowledge transferred from the heads of the former to the heads of the latter. How was the conference and what have the participants learnt? You can read about it in the coverage below.

For the speakers and organisers the conference actually started a day earlier – already on Tuesday. We picked the speakers up from the airport, helped them make themselves comfortable at the hotel, wined and dined them at the welcome dinner.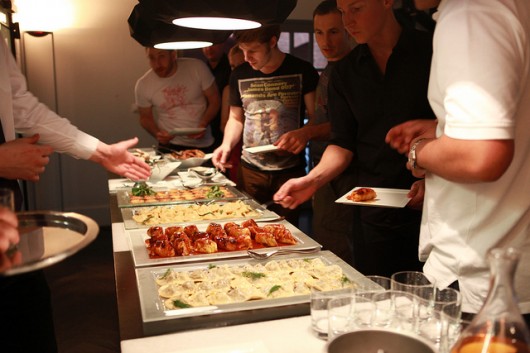 We wanted to make sure they felt at home in Poznań and that nothing distracted them from preparing for their Wednesday presentations. Looks like they appreciated it:


… though Tad Chef was fussy about the room number he got – 404

We have not heard any other complaints
The form of the conference was simple. On Wednesday – presentations on the big stage. On Thursday – a training in Facebook marketing and a SEO tools workshop. We started at 10 a.m. on Wednesday at Poznań-based Stary Browar, in Multikino cinema. A very convenient place for a conference venue.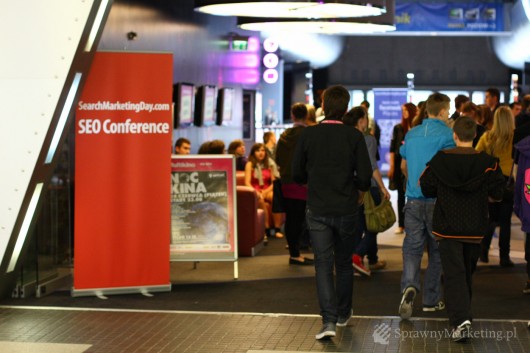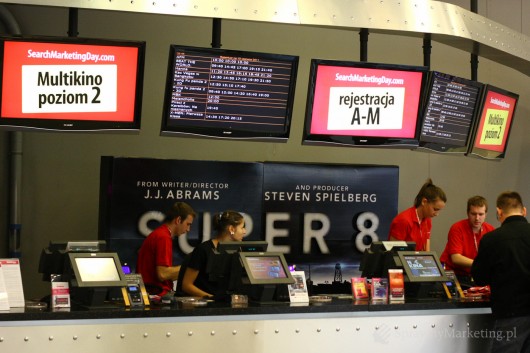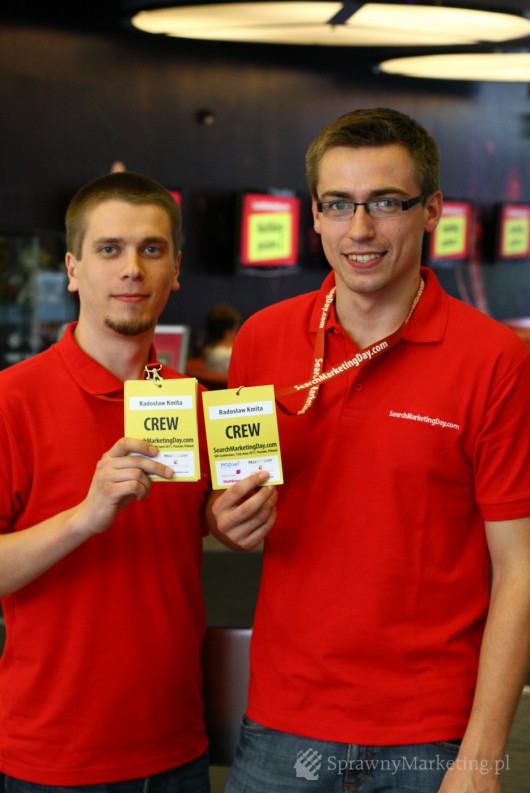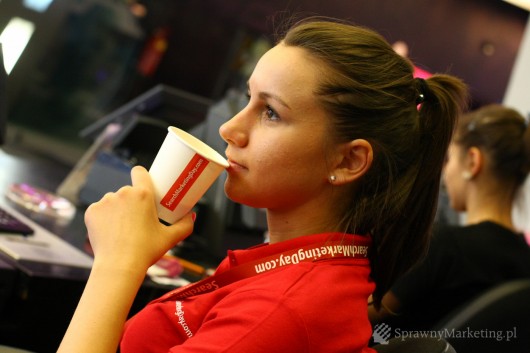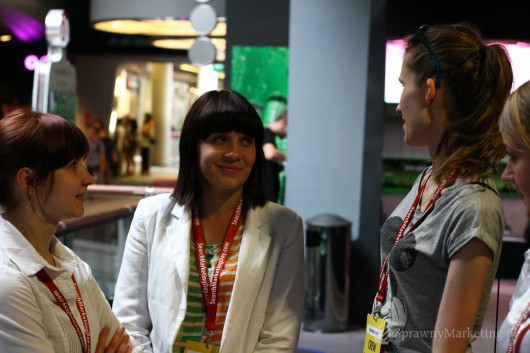 The conference was officially opened by the organisers… team MaxROY.com
For starters, we heard Matt Cutts from Google Search Quality Team welcoming the conference participants in his short video and pointing at black hats in the audience:
Then it started for real; successive speakers came on stage and shared their knowledge. If we made a tag cloud out of the discussed topics, the largest would be:
link baiting,
new link building techniques,
new ranking factors, Panda, and penalties.
Link baiting
Link baiting was the leitmotif of two presentations, but other speakers kept mentioning it as well. "If content in the king", argued Simon Sunden, then "links are god". What better can you do than bait links so that users link to you spontaneously? Creating content that users want to show to their friends should do the trick. "Offensive links are the best links", added the eccentric Dane Mikkel "deMib" Svenden (red suit, wild look).
Link baiting is not exactly about higher ranks (you don't have any influence on anchors after all), but about a natural link profile (Sunden).
Link baiting in a no-risk strategy due to its 100% compatibility with Google's guidelines. That's exactly what Google expects you to do (Mikkel deMib).
Even if you come up with the best possible bait, you still have to trigger the snowball effect, make users swallow the bait, for example by recommending it to their friends. Make them pass it on to other people (Sunden).
The content needs to be attractive enough to make people link to it within the first 5 seconds. If it takes them longer to decide, they won't link (Sunden).
Be prepared for the situation when most of your link baits don't work. It's part of the game, don't worry. If one bait does not work, you only lose some of your time. Your failure won't be noticed; try until you succeed, you'll manage finally (Sunden).
"Hate-links rule", provoke self-conscious groups (e.g. feminists, ecologists, Linux users) with offensive statements to incite their vehement criticism full of your reshared links (Mikkel deMib).
Headlines are important, e.g. "top 10 X", "5 things you should not do in Y" etc. (Sunden).
Useful tools such as gross income calculators, templates, and virals as standard baits are always a good idea (deMib), just like…
… attention-grabbing news – preferably with you in the main part, for example the first law suit in Poland against Google would surely reverberate and attract a lot of links (deMib).
z
New link building techniques
"Don't buy links…", said Marcus Tandler, and Kaspar Szymański smiled, but the smile quickly disappeared from his face as Marcus added "buy whole sites!!!" "There are plenty of abandoned or neglected sites on the web waiting to be taken over", he continued. The situation was alleviated by the Pole living in Berlin Tadeusz "Tad Chef" Szewczyk, whose advice was "don't build links, get them".
Abandoned sites can be found by searching phrases such as "last updated XX.XX.XXXX" + keyword or "no more updates" + keyword, or with the help of the XENU tool.
When deciding on which sites to get links from, look at them with Google's eyes, e.g. by using AdWords Content Network Reports.
Don't shun paid tools. There are plenty of free ones, but if you want to gain an advantage over your competitors, use paid tools such as Majestic SEO, Raven, SEOmoz, Sistrix, Syntryx itd.
Make sure that the site you want to get a link from is able to pass its link juice. Is it correctly indexed? Is it related content-wise? Its PageRank is of no importance.
Have a look at the H.A.R.O. service. It will help you become an expert cited in the media and, as a result, obtain super-strong links. It's not so difficult.
Getting links is better than building them, where "getting" means creating content and PR around yourself that will automatically attract links, while "building" is contacting webmasters to make them link to you (here criteria other than the site's value come into play).
Getting links is much more scalable because you don't have to strive for each link separately; they appear on their own, provide a natural link profile, are embedded in the context (and not in the sidebar or footer).
Don't forget about affiliate links if you have a affiliate program. Such links are super-relevant; unfortunately, they don't usually have friendly URLs. It's worth paying more attention to their friendliness.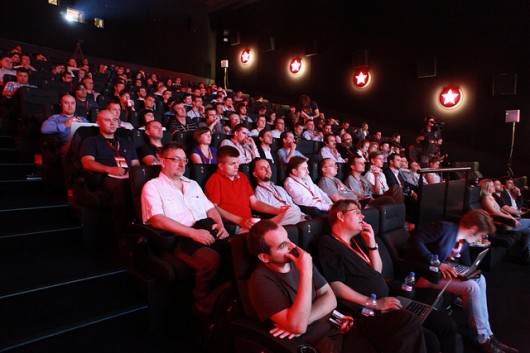 New ranking factors, Panda, and penalties
"We are all black-hat", argued Martin Macdonald, because "optimization in full accordance with Google's guidelines is practically impossible". Mikkel deMib seconded him, stressing the fact that in our willingness to be white-hat we have to be realists – in many industries that could lead to an unmitigated disaster. However, he added that "the changes in the algorithm could have been predicted long since and today no one should cry any more because of Panda". "Panda is not only about fighting against duplicates", said Dixon Jones, the man with the most powerful Competitor Link Intelligence behind him – Majestic SEO.
Panda's requirements are much more complex (Jones).

It can filter some objective features of low-quality content, above all those connected with its poor "readability" (Jones).
It's worth reading the text by Amit Singhala from Google where he defines "good content" with the help of 23 control questions (Jones).
A filter is not a penalty, its purpose is to tidy up the results (deMib).
When it comes to manual penalties, Google follows the implicit policy of "second time lucky", which means that if you commit the same offence for the second time, your site will face an unenviable situation (deMib).

Everyone uses black-hat techniques (some more, some less often), that is why the whole ranking is corrupt. This led to introducing new ranking factors such as the social ones (Jones).

Introducing social factors is natural, they are less easily manipulated, as spammers cannot remain anonymous (Jones).
The brand helps users deal with information clutter. Google knows that, and that is why it algorithmically favours brands (here charts showing correlation between position and brand authority were provided). The rule is the more important, the more difficult the keyword is (Tandler).
Outbound links do not decrease the level of link juice of the page they were placed on (which could follow from the analysis of PageRank algorithm). Outbound links can even have a positive effect, which seems to be confirmed by the lack of correlation between the number of outbound links and ranking, as well as Matt Cutts' words: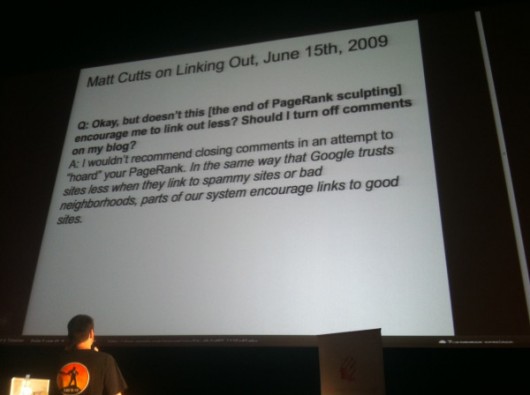 Day Two
On Thursday, this time in a much smaller group, knowledge transfer took place in the form of a training course (in Facebook Marketing) and workshops (in SEO tools). Training took place in parallel sessions and it was also possible to follow the Facebook Marketing training from home (streaming online). Due to space limitations only the chosen topics from each of the training courses will be presented below.
Facebook Marketing
Tomek Frontczak from MaxROY.com started the training in Facebook Marketing with his talk on Facebook Ads. Tomek pointed out that people trust Facebook with a lot of private information, their interests, activities, visited places, friends etc. It gives advertisers a chance to target their ads with great precision to the extent that is not available in the case of Google Adwords. Later, Tomek discussed:
the similarities and differences between the two above-mentioned systems,
how to set up a business account on Facebook (where you can make a lot of mistakes),
how to manage Facebook ads in practice.
He also emphasised graphics' role in ads, demonstrated CTR boosting and costs reducing techniques for ads. He pointed out the need to change the approach to building landing pages if they are to create "intentions" after one has clicked on a Facebook ad.
Next, Piotr Maruszewski from PM Interactive agency shared his rare knowledge of Facebook Premium Ads (Facebook reach campaigns). Participants learnt, among others, how to reach 3 million Poles on Facebook in one day, how to include a spot video in their ad, and what Facebook Engagement Ads are.
The next speaker was Jacek Gadzinowski who talked, among others, about problems resulting from the lack of any Facebook presence strategy of a brand. Companies entering Facebook without any strategy prepared beforehand don't cope well with PR crises (which after all naturally happen to all brands), they organise ineffective contests (e.g. giveaways that don't really translate into any profit for the brand), waste time on creating content that is uninteresting for their audience. The training session was closed with a discussion panel in which also Maciej Budzich (mediafun.pl) took part.
SEO tools
At the same time, in a different room, a workshop on SEO tools was taking place. Artur Strzelecki (SilesiaSEM organiser) started by introducing rank monitoring tools available on the Polish market such as Googlemon, OmniCRM, Stat4SEO, SEO-STAT.pl, SEOSTATION, Webpozycja, and Web-tools.pl. The audience was shown the most characteristic functions of each tool, they learnt about each tool's form (desktop vs. online), their purchase and payment options.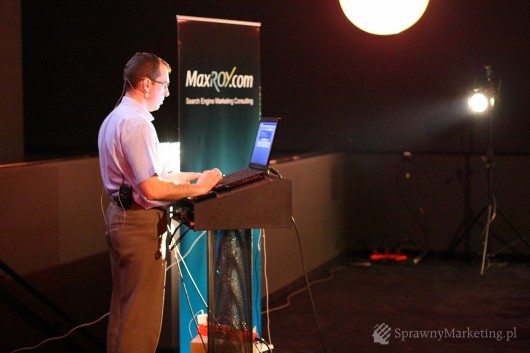 Later Artur also demonstrated Open Link Analyser – a link analysis tool being created by his team, to which all participants were granted free access (the tool is not freely available yet). The tool, though still unfinished, seems to be an interesting option fitting the character of the Polish market. It can identify second-level domains, "neighbouring domains" (under the same IP number), and "near domains" (differing only in the last octet of the IP number).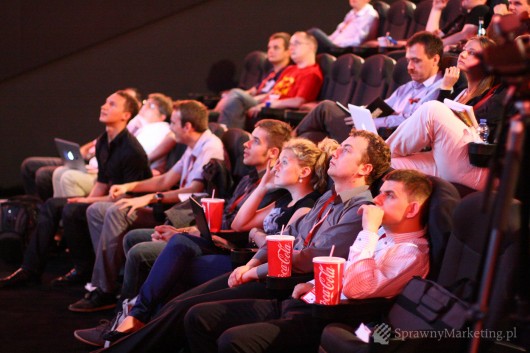 Next, the stage was unexpectedly taken by Dixon Jones from Majestic SEO, whose presence had not been announced earlier. Majestic SEO, as Dixon boasted, has access to the second largest link index (after Google), since it has information on 3-5 billion links. The tool is useful in checking if the site has a "good environment", and can give you information on almost all its outbound links and backlinks. A standard free-of-charge report provides you with information on 50,000 most important links, while a paid, extended one gives you information on all links. Our research shows that Majestic SEO outperforms its rivals when it comes to the number of links presented in detail.
The next presentation was by an unexpected guest – Razvan Gavrilas – who presented CognitiveSEO, a tool he's developing himself and which had not been before presented anywhere outside Romania. CognitiveSEO is a real multitool for a SEO, it includes such features as different user access levels, CRM (to be implemented soon), detailed reporting in attractive layout. The tool allows you to process information about links that comes from exterior sources, helps import it too; checks false links (due to cloaking visible only to a customer and not to Google), a link's position within the layout (footer, header, sidebar, body), a site's type (a shop, blog, forum, news page, community etc.), and its thematic category (out of 19 predefined ones). These are only some of the tool's features. All workshop participants were granted free access to this tool as well.
Paweł Chwalibóg from MaxROY.com talked about a tool that checks a site's backlinks. He discussed Yahoo Site Explorer (a free yet rather ineffective tool whose days are numbered), Open Site Explorer (a well-made tool from SEOmoz presenting useful information in an interesting way, though the number of extracted links is not impressive), Bing Webmaster Tool (poor, to be used in emergencies only), SEOSpyGlass (a desktop tool which is part of Link-assistant.com package, with rich filtering options, long waiting time for reports, and the option of imitating human activity to avoid a ban from Google). Paweł also presented the following tools: Market Samurai, Back Link Verifier, Alexa, and Link Research Tool.
Last but not least, Piotr Kiper (conducting his workshop via streaming online from London) presented link-adding tools. Let the content of his presentation remain known to the workshop's participants only.
The training finished with a 6-hour question (by the audience) and answer (by the speakers) session.
Summary
This is obviously not all that happened at Search Marketing Day. A more detail coverage was done live (in Polish) on Wednesday in the form of live blogging (where we wrote, among others, about Steven Pavlovich's brilliant talk on conversion optimization or Dixon Jones' advice for afilliate marketers). Details of the following will remain known only to the conference participants:
a great number of useful tricks listed by conference speakers (on Wednesday) and trainers (on Thursday),
Wednesday presentation by Razvan Gavrilas,
Wednesday talk by Gillian Muessing from SEOmoz (substituting for Rand Fishkin) who discussed the latest Ranking Factors 2001,
part of the Thursday training on Facebook Premium Ads conducted by Piotr Maruszewski,
part of the Thursday SEO tools workshop conducted by Piotr Kiper (Kojotek),
part of the 1-hour Wednesday discussion panel (with the conference speakers, as well as Kaspar Szymański and Jane Copland),
the content of the numerous backstage talks with the speakers and other participants,
the afterparty's atmosphere
Was the conference a success? Let us just write that on the first day only a few seats (out of over two hundred) were free, and similarly on the second day during the SEO tool training. A few less people attended the Facebook Marketing training, but still the number was high. The event gathered over 220 people!
The speakers' tweets are also very telling. See some of them for yourselves: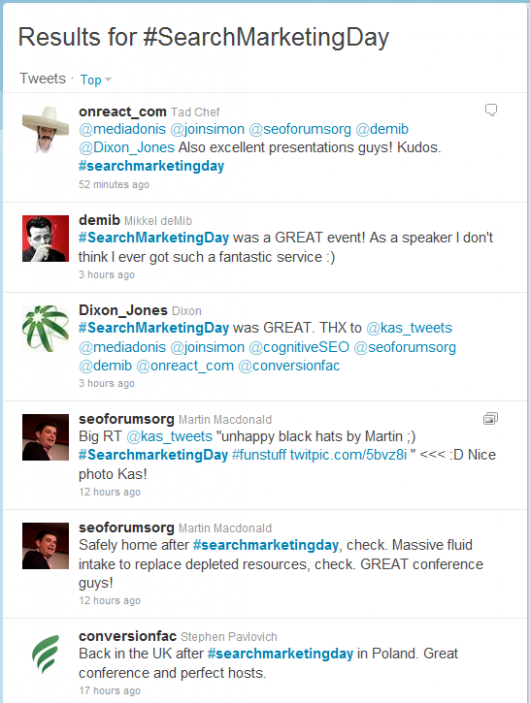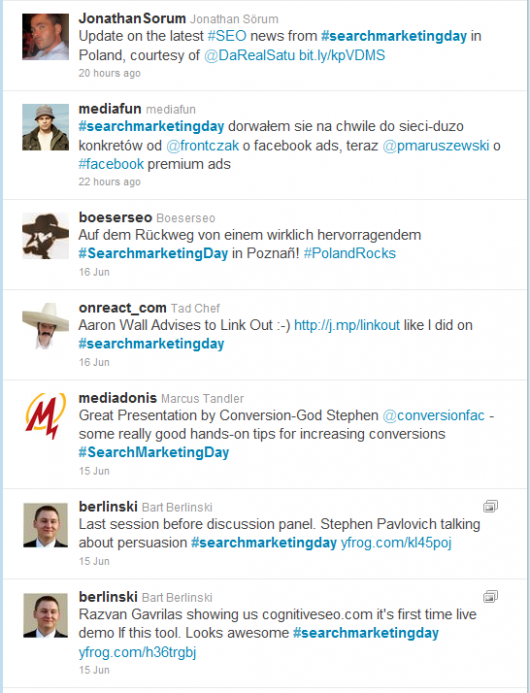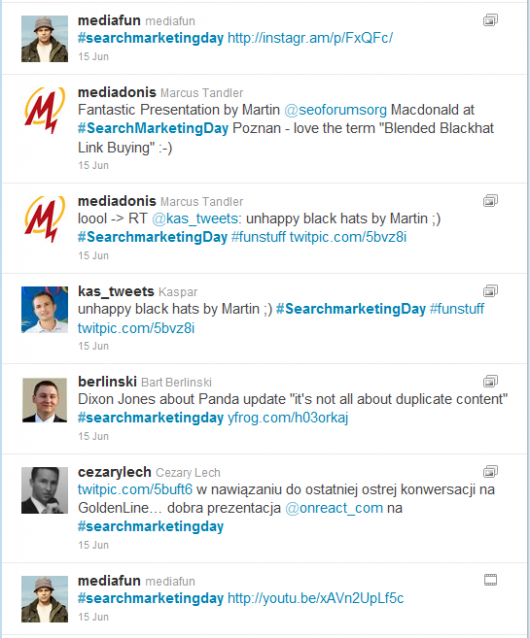 And here are some of the first independent reviews of the conference that we found: in English (The Satu, Marcus Tandler, Razvan Gavrilas), German (Dominik Wójcik) and Polish (PiO, Paweł Szczepaniec).
This surely was not our last international SEM conference in Poland!
Some photographs supplied courtesy of Mikkel deMib Svendsen.