Authors: Tomasz Frontczak, Cezary Lech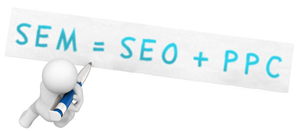 The market of search engine marketing is on the increase just as awareness of the existance of such an area. More and more people, from journalists and bloggers writing about the marketing to people from the trade, confuse or use the basic terms of SEM, SEO and PPC interchangeably. As soon as we've noticed that it also happens to us, we've decided to write the item. We'll try to explain and regulate a few problems with the names and thereby work out nomenclature of the trade.
What are SEM, SEO and PPC? Definitions
SEM – Search Engine Marketing
SEM – means everything which is connected with Web Marketing in search engines. SEM is a word that includes lots of terms, names of services and products.
Two years ago in the book entitled Internet Marketing in Search Engines (Polish) I defined SEM by showing what it is mainly designed for.
Existance of a website would be pointless if likelyhood of finding a potential user (potential customer) had been slight. Web Marketing in search engines (SEM) is used to improve user's connection to a website by increasing its visibility in search engines.
First of all, we'd like to draw your attention to the fact that identifying SEM only with PPC AdWords advertisments is very common in Poland. It's a fundamental and most frequently made mistake. It's good to avoid that because along with development of the market and new services coming on to it soon we may have more and more problems with the naming.
The following picture explains very well the link between SEM, SEO and PPC
Ilustration taken from: Greekcamp – Definition of SEO, PPC and SEM
SEO – Search Engine Optimization
SEO is a process which improves the quality and the quantity of the traffic coming to optimised website from organic search.
It's good to familiarize oneself with Wikipedia's definition of SEO. There is taken note of following aspects:
SEO is a process, not a single action
SEO is concentrated not only on quantity of the traffic but also on its quality
SEO contains different seach engines: image search, local search  and vertical search
* SEO contains different seach engines: image search, local search  and vertical search
In Poland SEO is explained by using words such as positioning or optimization. Some people use them interchangeably (we think it's correct), others understand optimisation as only the actions on a page (without building links).
PPC – Pay per Click
PPC is a model of charging for advertising on search engines and websites. Since the method became popularized by search engines, it caught on to define paid advertisment by PPC in search engines i.e. paid listing.
Beside organic search we may find i.e. paid listing (or paid placement listings). They are usually distinguished by an inscriptions: sponsored links in Google, sponsored results in Yahoo and sponsored sites in Microsoft search engine.
(source: Frontczak T. 2006, Internet Marketing in Search Engines)
In the mentioned search engines, in paid listings, costs of advertisement are calculated in the model of PPC. At this point we may assume that the abbreviation of PPC describes all the area of paid advertisment in search engines. Of course, with some exceptions – in Polish search engines we come across sponsored links which are accounted for in a method of charge for thousand displays (CPM – cost per mile) or phone links.
Comment: Although Gooogle introduced in its tools a possibility to fix the price – CPC (cost per click) – depending on the cost of conversion, it's still a charge for click and so an auction on which we compete with the other advertisers concerns CPC.
At this point the problem with PPC appears when we think of campaigns of site targeted or contextual advertising targeted on the basic of a charge for a click. Then we can no more talk about SEM in the exact meaning. Additionally, such tools as Google AdWords offer broadcasting of an ad on millions of partnership pages on the basic of CPM method (for thousand displays) or CPA (cost per action).
Contextual advertising and site targeted advertising
Contextual advertising (PL) and site targeted one are not ads in search engines. The problem is whether we should rate contextual advertising among marketing in search engines in a wide meaning or marketing through marketing platforms of the owners of search engines. It's hard to give a clear-cut answer since our opinion in this matter evolves too.
Two years ago, while publishing a book entitled Internet Marketing in Search Engines I wrote about contextual and site targeted advertising (as I described AdWords system). It was difficult for me to find a name commensurate with new advertising methods through AdWords platforms and till now the name still isn't created.
Certainly contextual advertising is neither organic search nor paid listing of the engines but an ad on other websites.
What is your opinion about the issue of naming in our market?
Maybe some of you will now say that the problem doesn't exist if everybody gets the point. But are you absolutely sure?